As part of Let's Chat, the partner colleges and specialist partner have created a number of takeaway toolkits that can be used by either students, staff or both. These toolkits will allow individuals to learn more about developing positive mental health and wellbeing that can be applied to their own experiences, support others or enhance their teaching practice.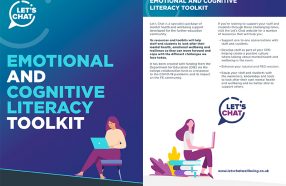 Toolkit
Emotional and Cognitive Literacy
Emotional Literacy is the ability to understand your emotions, to listen to others and empathise with their emotions, and the ability to express emotions productively. This e-booklet will enable you to develop and increase your emotion vocabulary and allow for the development of appropriate strategies and new tools for future emotional intelligence.
Download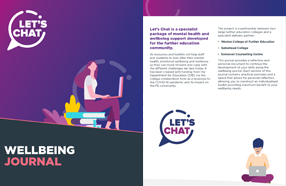 Toolkit
Wellbeing Journal
This journal provides a reflective and personal document to continue the development of your skills along the wellbeing journal. Each section of this journal contains practical exercises that allows for personal reflection, allowing you to construct an individualised toolkit providing maximum benefit to your wellbeing needs.
Download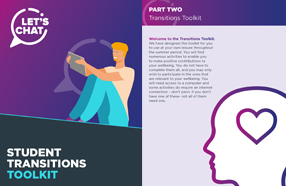 Toolkit
Wellbeing Transition
A transition toolkit that has been created to support learners entering Further Education. This toolkit will enable young people the opportunity to start to reflect on their own mental health and wellbeing as part of their transition into college, as well provide them with a series of activities to practice mindfulness techniques that can alleviate stress and anxieties.
Download
The Let's Chat toolkits were created by an Advanced Practitioner in Mental Health and Wellbeing with support from experienced therapists. For further information on these toolkits please contact the collaboration where we can also explore bespoke packages of support or training.